Cardinals Birch Trees Mug Cardinal Lover Gift Nature Birder Mug Bird Watcher Lover Gift Coffee Mug Lodge Mug for Mom Mothers Day for Her by 3DCandleCreations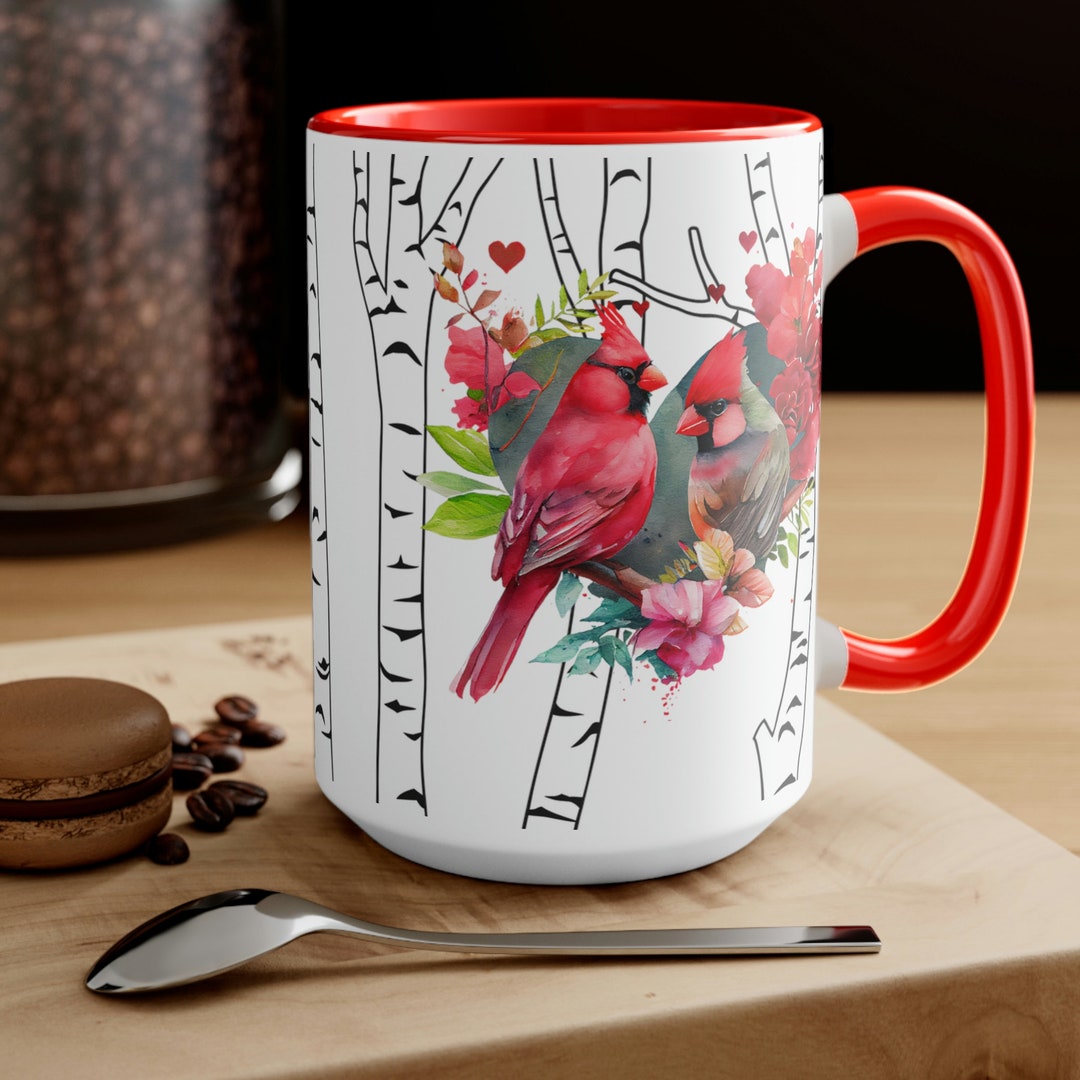 17.00 USD
Cardinals on Birch Tree Mug Cardinal Lover Gift Cardinal Mug Bird Mug Bird Watcher Gift Bird Lover Gift Cardinal Birds Coffee Mug Lodge Mug
Introducing our Cardinals on Birch Tree Mug, the perfect present for cardinal lovers, bird watchers, or anyone who appreciates nature's beauty! This delightful mug is a tribute to the enchanting world of bird-watching, letting you enjoy the captivating presence of cardinals while sipping your favorite brew.
Our beautifully crafted ceramic mug features a charming scene of cardinals perched on birch trees, enveloped by a heart of little hearts and flowers. The cardinals' vivid red plumage stands out against the muted birch background, creating a pleasing contrast that brings this mug to life.
Available in 11 and 15 fluid ounces, this mug is ideal for both a quick coffee fix and leisurely tea time. Choose between a red or black rim, inside, and handle to suit your style or to mix and match with your existing kitchenware.
Made with a high-quality glaze, this cardinal mug showcases a durable and non-fading print, ensuring it will maintain its beautiful design over time. It's dishwasher and microwave safe, providing an excellent balance of style and functionality.
So why wait? Whether you're buying it as a gift or treating yourself, our Cardinals on Birch Tree Mug is more than just a mug. It's a small celebration of nature, perfect for bird lovers and coffee lovers alike. Order yours today, and let your mornings take flight with the enchanting beauty of cardinals!
• Ceramic 11, 15 fluid ounces
• Vivid and non-fading print
• Red or black rim, inside, and handle
• Dishwasher and microwave safe
3D Candle Creations appreciates your order!
Add A Greeting Card Mailed
https://www.etsy.com/listing/1329071764/
/> Step 1: Add to Cart
- Explore our wonderful collection of handmade creations 🎨.
- Click the "Add to Cart" button on the item you desire.

Step 2: Personalize and Customize (If applicable)
- In the "Add Your Personalization" section during checkout or "edit" area 📝, share your customization preferences.
- Specify colors, sizes, or any special requests you have in mind if your order offers this.

Step 3: Complete Your Order
- Review your order details 🧐.
- Click "Proceed to Checkout" to enter your shipping information.
- Select your preferred payment method 💳 and confirm your order.
- Once your order is processed, you will receive tracking information to keep you updated on its delivery status.

That's it! Get ready to enjoy your order, tailored just for you. If you have any questions or need further assistance, feel free to reach out to us. 🌟



http://dlvr.it/SyhM3w