Gamer Nutrition Facts Mug Gift for Him Gamer Coffee Mug Funny Gaming Gift Video Game Birthday Gift for Dad Son Gamer Gift Gaming Boyfriend by 3DCandleCreations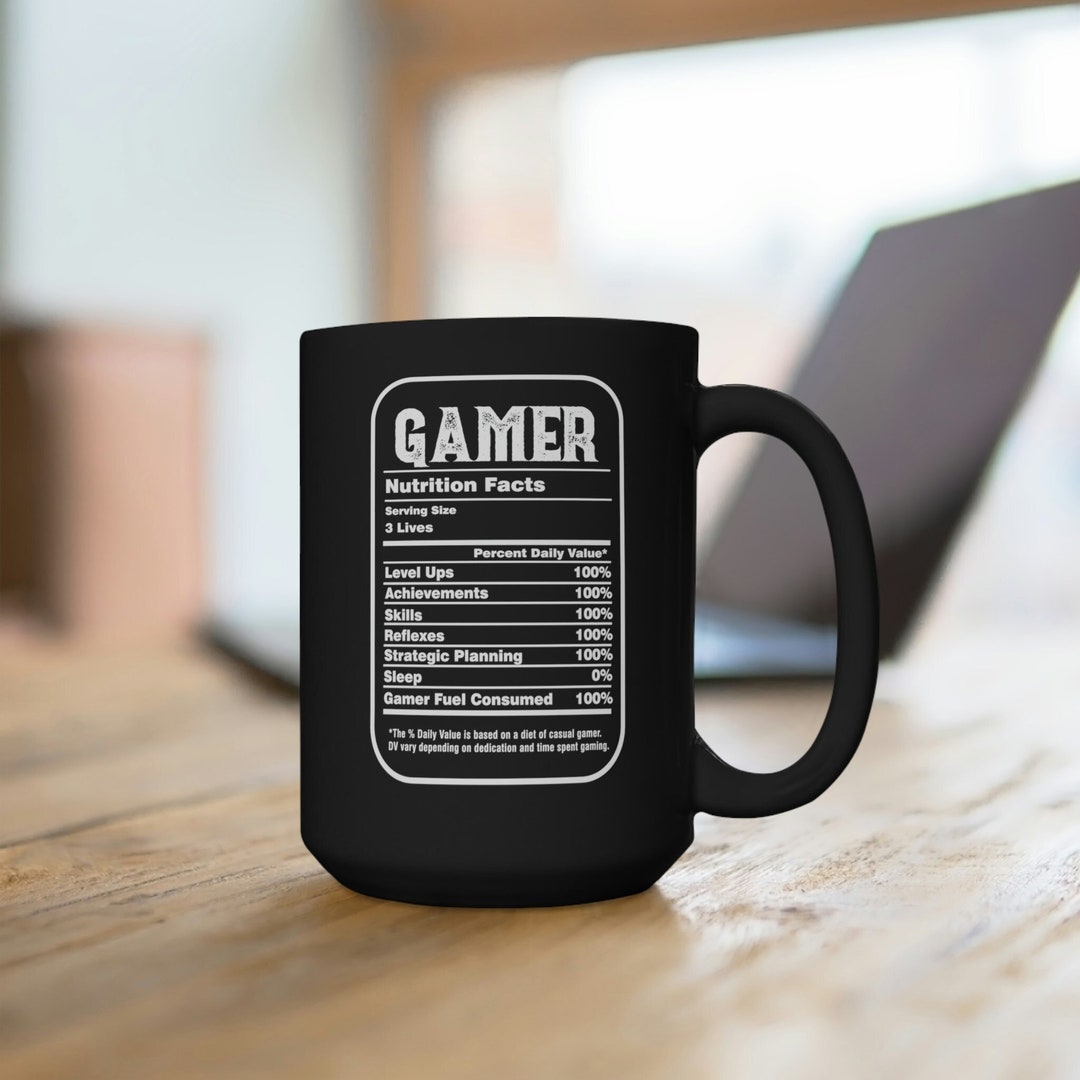 16.00 USD
Gamer Nutrition Facts Mug Gift for Him Gamer Coffee Mug Funny Gaming Gift Video Game Birthday Gift for Dad Son Gamer Gift Gaming Boyfriend
Boost your gaming sessions with this Gamer Nutrition Facts coffee mug! Tailored for the passionate gamer, this mug features a unique, nutritional-facts-inspired design that is sure to amuse and delight. Whether you're streaming, competing, or simply basking in your favorite games, this mug is a fantastic addition to your collection.
Cradle warmth in your hands with a comforting hot drink in this perfectly sized 15-ounce black ceramic mug. It's microwave and dishwasher-safe, offering easy clean-up and quick reheating for your beverages.
The high-quality video game design transforms this sturdy ceramic mug into the ideal gift for the real coffee, tea, or hot chocolate enthusiast in your life. The humorous gamer-themed graphics will surely bring a smile, making this an appreciated gift for someone who always asks for a refill.
• Made from durable black ceramic in 15 ounces size
• Eye-catching Gamer Nutrition Facts design
• Ideal for hot beverages - coffee, tea, hot chocolate
• Microwave and dishwasher-safe for easy reheating and cleaning
• An appreciated gift for gamers, and those always asking for a refill!
Take your gaming experience to the next level, starting with your coffee mug!
Black ceramic
15 oz
Rounded corners
C-handle
If you need this by a certain time please message us so that we can let you know if we can accommodate this before you place the order.
No Cancellations or Refunds
Some items are finished by my production partner. They will ship from the location that is closest to the destination
Step 1: Add to Cart
- Explore our wonderful collection of handmade creations 🎨.
- Click the "Add to Cart" button on the item you desire.
Step 2: Personalize and Customize (If applicable)
- In the "Add Your Personalization" section during checkout or "edit" area 📝, share your customization preferences.
- Specify colors, sizes, or any special requests you have in mind if your order offers this.
Step 3: Complete Your Order
- Review your order details 🧐.
- Click "Proceed to Checkout" to enter your shipping information.
- Select your preferred payment method 💳 and confirm your order.
- Once your order is processed, you will receive tracking information to keep you updated on its delivery status.
That's it! Get ready to enjoy your order, tailored just for you. If you have any questions or need further assistance, feel free to reach out to us. 🌟
http://dlvr.it/Syw3lW