Money Candle Affirmation Gift Money Home Decor Gift Scented Candles Unique Gifts Dollar Bills Wealth Deodorant Odor Eliminator Aromatherapy by 3DCandleCreations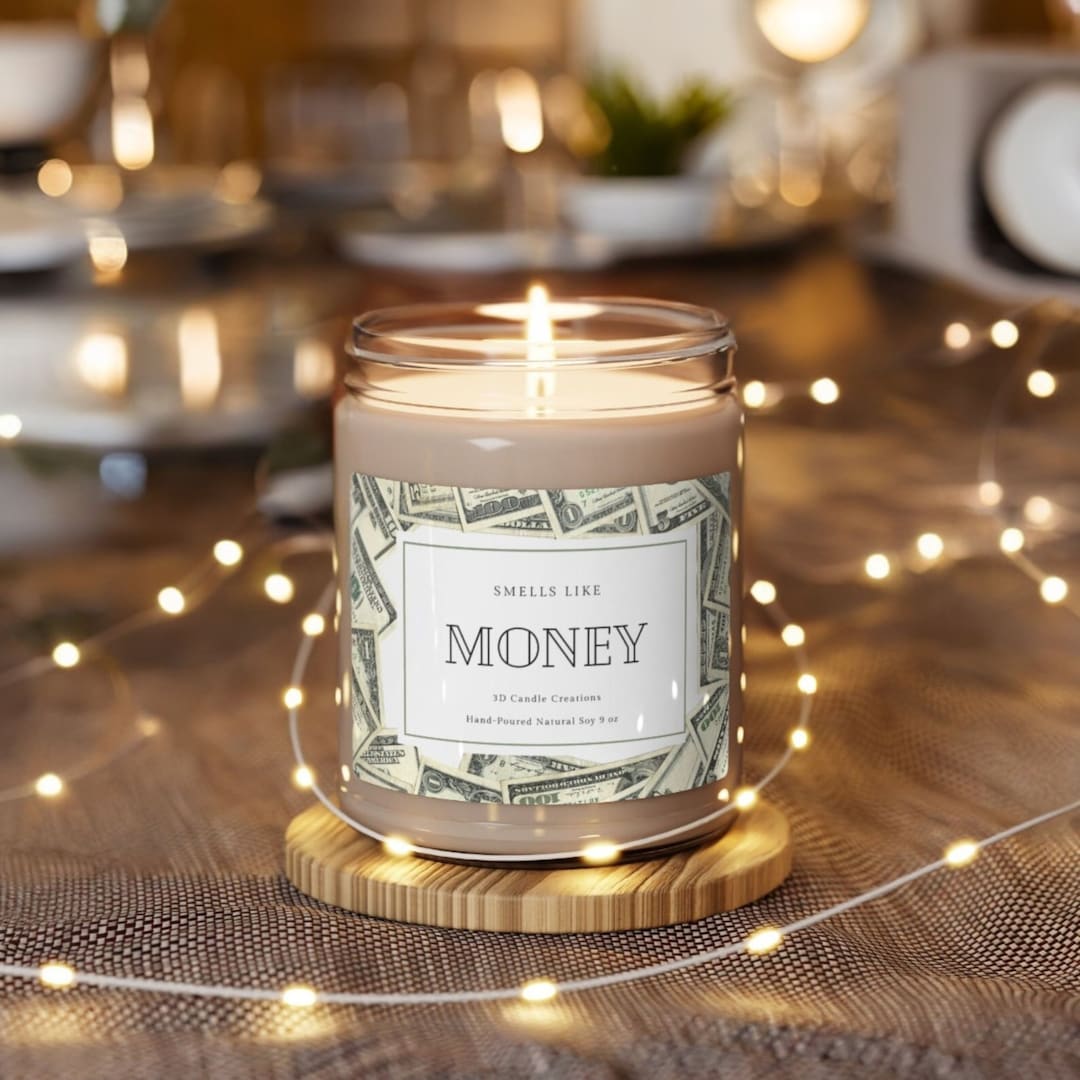 22.00 USD
Money Candle Affirmation Gift Home Decor Gift Scented Candles Unique Gifts Dollar Bills Wealth Deodorant Odor Eliminator
Welcome prosperity and abundance into your life with our Money Manifestation Candle. This hand-poured soy wax candle is designed to help you focus on manifesting financial success and personal growth, making it a perfect addition to your daily self-care routine or meditation practice.
Our eco-friendly Money Manifestation Candle is made from 100% natural soy wax, ensuring a clean and long-lasting burn. The beautiful candle represents growth and abundance, allowing you to set your intentions for financial success and well-being.
Ideal as a thoughtful gift for friends, family, or even yourself, this Money Manifestation Candle serves as a gentle reminder to stay focused on your goals and embrace the positive energy that surrounds you.
Packed with immersive aromas, these scented candles come in 9oz glass jars and are one size (2.8″ × 3.5") (7.1cm × 8.8cm). Made with 100% natural soy wax blend, each candle features a 100% cotton wick and a trendy design that will upgrade your surroundings.
Thank you for choosing our Money Manifestation Candle and supporting our small, family-run business. We appreciate your support and wish you a journey filled with abundance and prosperity.
Materials: 100% natural soy wax blend,
100% cotton wick and a glass jar
One size: 2.8″ × 3.5" (7.1cm × 8.9cm)
Glossy permanent adhesive label
Available in scents - White Sage + Lavander, Clean Cotton, Sea Salt + Orchid, Cinnamon, Apple Harvest, Cinnamon Vanilla
All scents have the same wax color
Vanilla and cinnamon may have a slightly different black lid
No Cancellations or Refunds
Some items are finished by our production partner. They will ship from the location that is closest to the destination
Step 1: Add to Cart
- Explore our wonderful collection of handmade creations 🎨.
- Click the "Add to Cart" button on the item you desire.
Step 2: Personalize and Customize (If applicable)
- In the "Add Your Personalization" section during checkout or "edit" area 📝, share your customization preferences.
- Specify colors, sizes, or any special requests you have in mind if your order offers this.
Step 3: Complete Your Order
- Review your order details 🧐.
- Click "Proceed to Checkout" to enter your shipping information.
- Select your preferred payment method 💳 and confirm your order.
- Once your order is processed, you will receive tracking information to keep you updated on its delivery status.
That's it! Get ready to enjoy your order, tailored just for you. If you have any questions or need further assistance, feel free to reach out to us. 🌟
http://dlvr.it/Sz035j