Brown Labrador Candle Personalized Gift Light When Name Farts Chocolate Lab Gifts Funny Gift for Dog Lover Dog Deodorant Odor Eliminator by 3DCandleCreations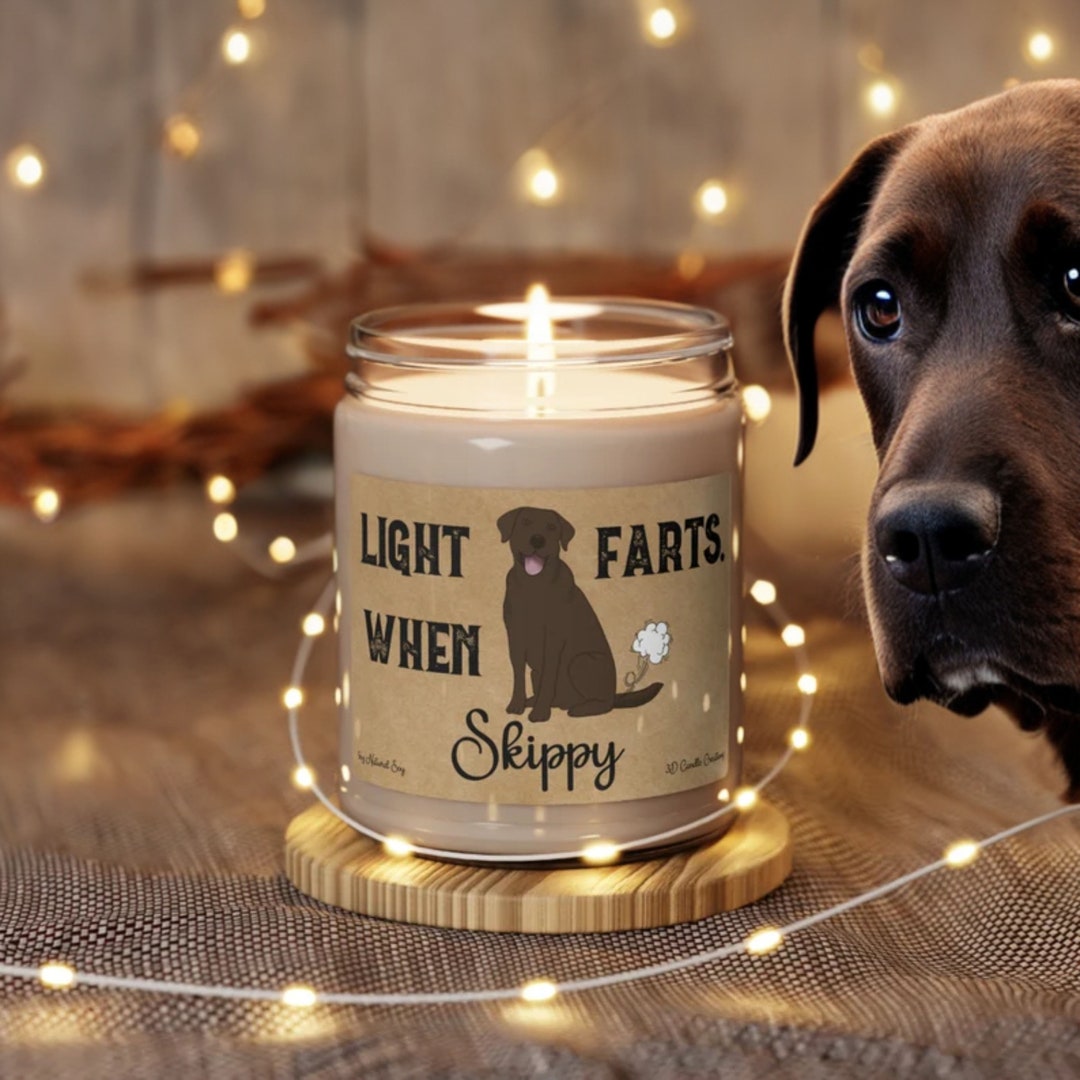 21.00 USD
Brown Labrador Candle Personalized Gift Light When Name Farts Chocolate Lab Gifts Funny Gift for Dog Lover Dog Deodorant Odor Eliminator
This Brown Labrador Candle makes a humorous and personalized gift for the dog lover in your life, especially those who have a soft spot for chocolate labs. Once lit, the candle releases a pleasant scent that will effectively mask any unwanted odors in your space. And here's where the fun part comes in: the candle is designed to be lit whenever your dog, whose name can be added to the candle for personalization, passes gas. It's a funny gift that's sure to be a conversation starter.
Made to order and crafted with care, this candle is perfect for dog lovers with a sense of humor. Its quirky nature also makes it a unique gift for occasions like birthdays, holidays, or simply as a token to show your love and appreciation.
Please note that while the candle does serve a practical purpose, it should be handled with care and kept out of reach of pets and children. Always monitor a burning candle for safety.
All other items in the photos, aside from the candle, are used for props and size comparisons.
For safety, do not leave a burning candle unattended.
Celebrate the joy (and occasional humor) of pet ownership with this delightful Brown Labrador Candle. Order today for yourself or as a gift for that special pet lover in your life!
Packed with immersive aromas, these scented candles come in 9oz glass jars and are one size (2.8″ × 3.5") (7.1cm × 8.8cm). Made with 100% natural soy wax blend, each candle features a 100% cotton wick and a personalizable design. Personalize with the dogs name of your choice.
Materials: 100% natural soy wax blend,
100% cotton wick and a glass jar
One size: 2.8″ × 3.5" (7.1cm × 8.9cm)
Glossy permanent adhesive label
Available in three scents - White Sage + Lavender, Clean Cotton, Sea Salt + Orchid, Vanilla Cinnamon, Apple Harvest
All scents have the same wax color
Vanilla and Cinnamon may have slightly different black lids
Colors may vary slightly due to lighting-
If you need this by a certain time please message us so that we can let you know if we can accommodate this before you place the order.
No Cancellations or Refunds
Some items are finished by our production partner. They will ship from the location that is closest to the destination
Step 1: Add to Cart
- Explore our wonderful collection of handmade creations 🎨.
- Click the "Add to Cart" button on the item you desire.
Step 2: Personalize and Customize (If applicable)
- In the "Add Your Personalization" section during checkout or "edit" area 📝, share your customization preferences.
- Specify colors, sizes, or any special requests you have in mind if your order offers this.
Step 3: Complete Your Order
- Review your order details 🧐.
- Click "Proceed to Checkout" to enter your shipping information.
- Select your preferred payment method 💳 and confirm your order.
- Once your order is processed, you will receive tracking information to keep you updated on its delivery status.
That's it! Get ready to enjoy your order, tailored just for you. If you have any questions or need further assistance, feel free to reach out to us. 🌟
http://dlvr.it/Sx44yk