Hotdog Candle Toast and Egg Candle Fake Food Candles Bread Candles Eggs Foodie Gag Gift for Him Gifts for Her Breakfast Home Decor Birthday by 3DCandleCreations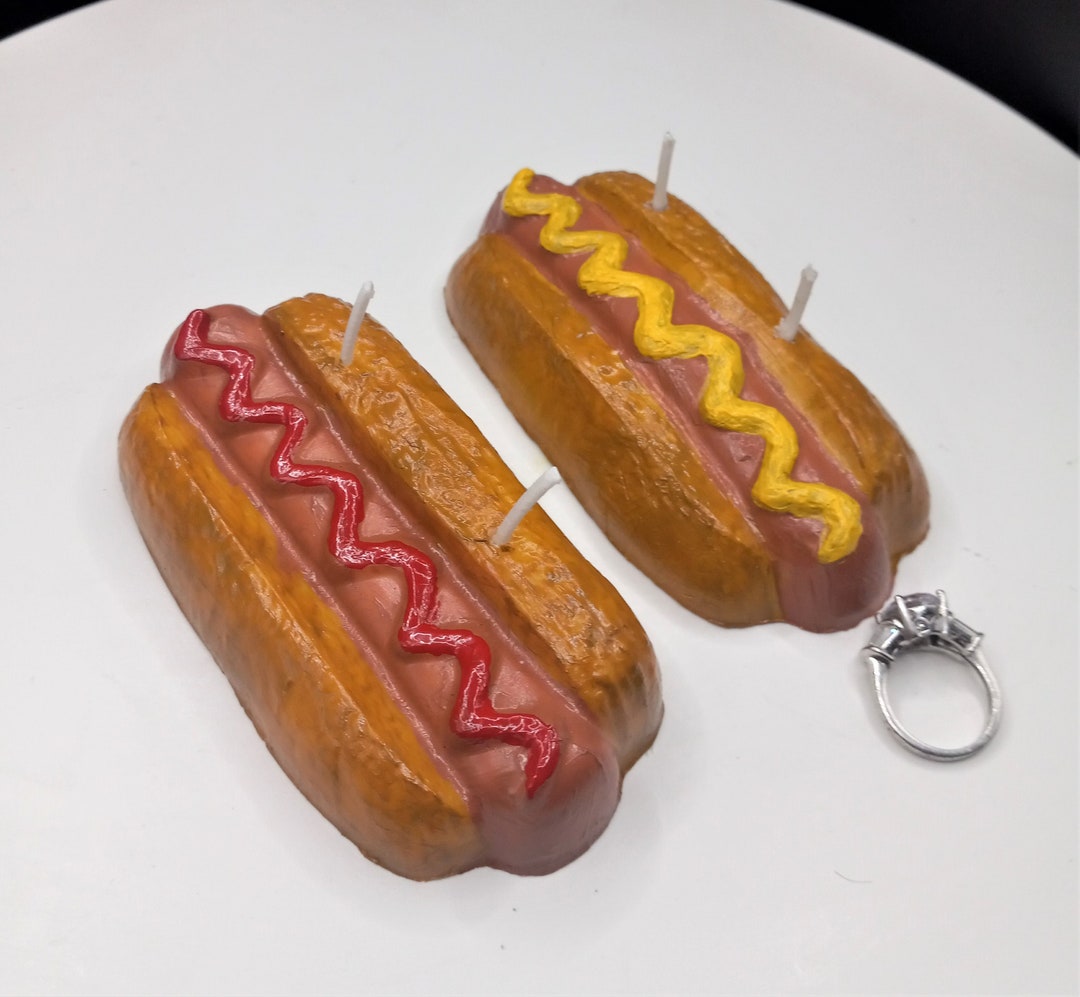 13.00 USD
Hotdog Candle Toast and Egg Candle Fake Food Candles Bread Candles Eggs Foodie Gag Gift for Him Gifts for Her Breakfast Home Decor Birthday
Introducing the ultimate addition to your home decor - the sizzling, mouth-watering Hot Dog Candle! This is not just any ordinary candle - it is an experience in itself that will transport you to a summer cookout.
Crafted with the utmost care, this candle is designed to look like a hot dog. This will make your taste buds tingle, even if you're not actually grilling!
Made with high-quality materials, these candles are perfect for any foodie or novelty gift lover. They also make a great gag gift for any occasion.
We take pride in our small family-run business and use only the highest quality materials for our products. Thank you for considering us for your gifting needs!
Approximate sizes
4 x 2 x 1 inches for hot dog
Pizza Candle measures
3.5 x 2.5 x 0.9 inches
Toast and egg candle-
2 1/2 inches long
by 2 1/4 by 1 inch tall
All items aside from candle are for props and size comparison
A production partner or program may be used with some items to help with creation or design.By purchasing candles from this shop you agree to
https://www.claritydreams.com/p/3d-candle-creations-by-esma-keys-terms.html
/> Step 1: Add to Cart
- Explore our wonderful collection of handmade creations 🎨.
- Click the "Add to Cart" button on the item you desire.

Step 2: Personalize and Customize (If applicable)
- In the "Add Your Personalization" section during checkout or "edit" area 📝, share your customization preferences.
- Specify colors, sizes, or any special requests you have in mind if your order offers this.

Step 3: Complete Your Order
- Review your order details 🧐.
- Click "Proceed to Checkout" to enter your shipping information.
- Select your preferred payment method 💳 and confirm your order.
- Once your order is processed, you will receive tracking information to keep you updated on its delivery status.

That's it! Get ready to enjoy your order, tailored just for you. If you have any questions or need further assistance, feel free to reach out to us. 🌟



http://dlvr.it/SxnjDm