Video Game Shower Curtain Boys Bathroom Curtains Home Decor Bath Kids Teens Gaming Gifts Gift for Him Birthday Game Controller Game Bathroom by 3DCandleCreations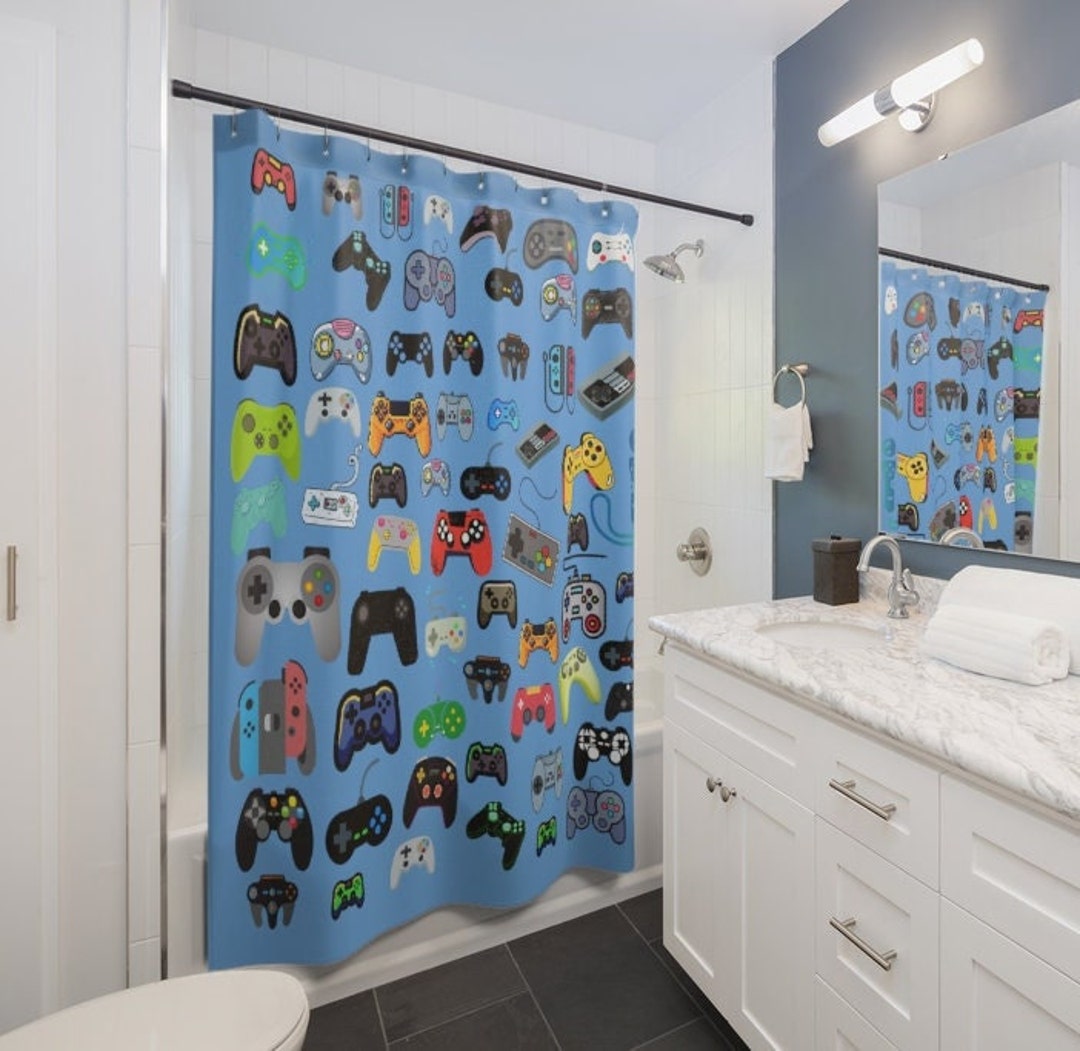 79.00 USD
Video Game Shower Curtain Boys Bathroom Curtains Home Decor Bath Kids Teens Gaming Gifts Gift for Him Birthday Game Controller
Introducing our Video Game Shower Curtain - the perfect addition to any video game enthusiast's bathroom décor! This stylish and fun shower curtain features a design inspired by gaming controllers, making it a great gift for any gamer in your life.
Whether you're decorating a kids' or teens' bathroom or just want to add a touch of fun to your own bathroom, this shower curtain is sure to make a statement. It's made of high-quality material that's durable and easy to clean.
And with its unique and thoughtful design, our Video Game Shower Curtain makes a great gift for any occasion. It's perfect for birthdays, holidays, or just because. And for any gaming fan out there, this shower curtain is a must-have addition to their bathroom decor.
So if you're looking for a gift for a gamer or just want to add a touch of fun to your bathroom, our Video Game Shower Curtain is a great choice. And as a small business, we want to thank you for your support. We promise to keep bringing you unique and high-quality products that will make you and your loved ones smile.
Thanks for choosing our Video Game Shower Curtain, and happy gaming!
100% Polyester
Hooks not included
This extremely strong and durable synthetic fabric retains its shape and dries quickly
12 buttonholes at the top for hook placement
Approximately 71 x 74
Colors may vary slightly due to lighting-
If you need this by a certain time please message us so that we can let you know if we can accommodate this before you place the order.
No Cancellations or Refunds
Some items are finished by our production partner. They will ship from the location that is closest to the destination
Step 1: Add to Cart
- Explore our wonderful collection of handmade creations 🎨.
- Click the "Add to Cart" button on the item you desire.
Step 2: Personalize and Customize (If applicable)
- In the "Add Your Personalization" section during checkout or "edit" area 📝, share your customization preferences.
- Specify colors, sizes, or any special requests you have in mind if your order offers this.
Step 3: Complete Your Order
- Review your order details 🧐.
- Click "Proceed to Checkout" to enter your shipping information.
- Select your preferred payment method 💳 and confirm your order.
- Once your order is processed, you will receive tracking information to keep you updated on its delivery status.
That's it! Get ready to enjoy your order, tailored just for you. If you have any questions or need further assistance, feel free to reach out to us. 🌟
http://dlvr.it/SySLWc