Da Pug Vinci Candle Pug Dog Funny Gift for Dog Lover Pug Art Da Vinci Parody Dog Deodorant Odor Eliminator Animal Scented Candle by 3DCandleCreations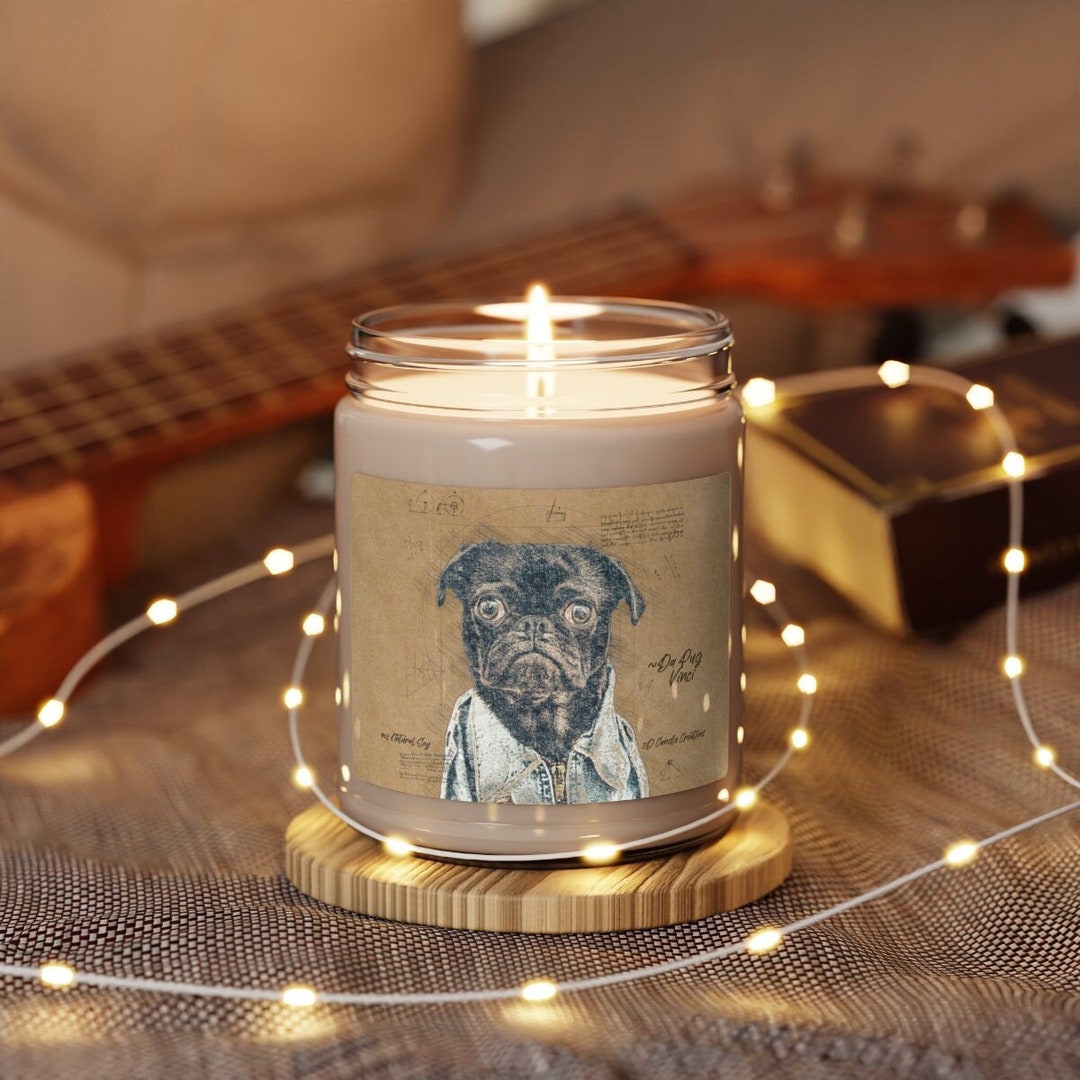 24.11 USD
Da Pug Vinci Candle Pug Dog Funny Gift for Dog Lover Pug Art Da Vinci Parody Dog Deodorant Odor Eliminator Animal Scented Candle
Introducing our Da Pug Vinci Candle - a unique and funny gift for any dog lover or pug fan in your life! This candle features a hilarious parody of the famous artist Leonardo da Vinci, featuring a pug dog in his iconic style.
Crafted with high-quality ingredients and an animal-scented deodorant, this candle not only delivers a funny and unique touch to any room but also works to eliminate unwanted odors. Perfect for pet owners, this candle will leave your home smelling fresh and clean.
Our scented candles are made with the highest quality materials and are designed to deliver a relaxing and calming aromatherapy experience. Light this candle to set a cozy and welcoming ambiance in any space, perfect for relaxing after a long day at work or unwinding during a night in with friends.
At our small family-run business, we take pride in creating high-quality and unique products that our customers love. We are committed to providing excellent customer service and ensuring that each of our products is carefully crafted with attention to detail.
Thank you for choosing our Da Pug Vinci Candle and supporting our small business. We are grateful for your trust in us and hope that you and your furry friend enjoy this hilarious and functional candle!
Packed with immersive aromas, these scented candles come in 9oz glass jars and are one size (2.8″ × 3.5") (7.1cm × 8.8cm). Made with 100% natural soy wax blend, each candle features a 100% cotton wick and a personalizable video game design. Personalize with the dogs name of your choice.
Materials: 100% natural soy wax blend,
100% cotton wick and a glass jar
One size: 2.8″ × 3.5" (7.1cm × 8.9cm)
Glossy permanent adhesive label
Available in three scents - White Sage + Lavender, Clean Cotton, Sea Salt + Orchid
All scents have the same wax color
If you need this by a certain time please message us so that we can let you know if we can accommodate this before you place the order.
No Cancellations or Refunds
Some items are finished by our production partner. They will ship from the location that is closest to the destination
Step 1: Add to Cart
- Explore our wonderful collection of handmade creations 🎨.
- Click the "Add to Cart" button on the item you desire.
Step 2: Personalize and Customize (If applicable)
- In the "Add Your Personalization" section during checkout or "edit" area 📝, share your customization preferences.
- Specify colors, sizes, or any special requests you have in mind if your order offers this.
Step 3: Complete Your Order
- Review your order details 🧐.
- Click "Proceed to Checkout" to enter your shipping information.
- Select your preferred payment method 💳 and confirm your order.
- Once your order is processed, you will receive tracking information to keep you updated on its delivery status.
That's it! Get ready to enjoy your order, tailored just for you. If you have any questions or need further assistance, feel free to reach out to us. 🌟
http://dlvr.it/SwlhT6