My Wife is Hotter Than My Coffee Mug Gift for Husband Funny Gifts for Him Fathers Day Birthday Gift to Him from Wife from Spouse Ceramic Mug by 3DCandleCreations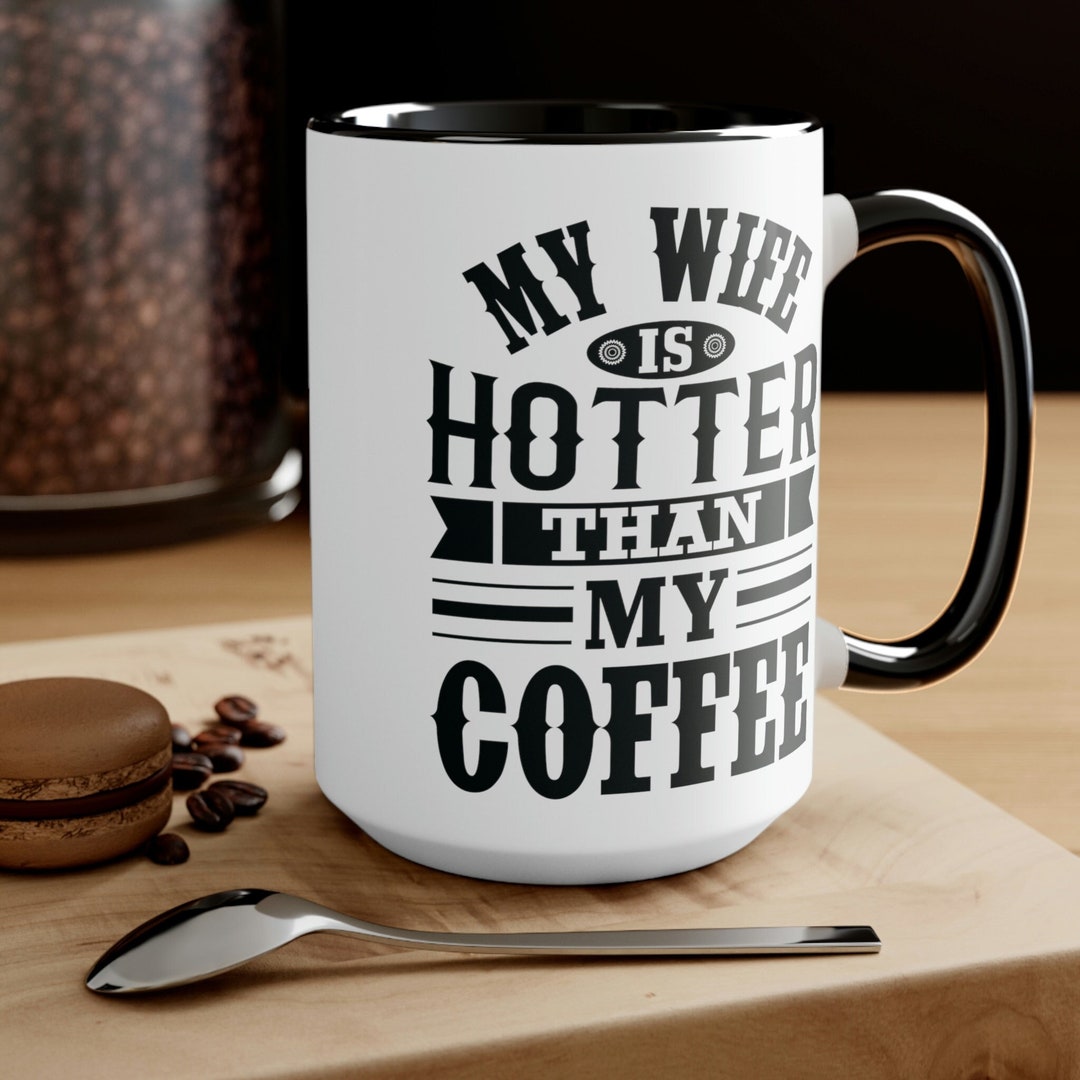 14.95 USD
My Wife is Hotter Than My Coffee Mug Gift for Husband Funny Gifts for Him Fathers Day Birthday Gift to Him from Wife from Spouse Ceramic Mug
This delightful 'My Wife is Hotter Than My Coffee' mug is the perfect playful and loving gift from wife to husband. Whether it's his morning coffee or afternoon tea, he'll be reminded of his fantastic wife with every sip!
Created with premium quality ceramic, this mug is designed to withstand daily use while retaining its vibrant colors and glossy finish. Available with a choice of red or black rim, handle, and interior, it adds a touch of sophistication to any coffee or tea session.
With a generous capacity, it's ideal for serving his favorite brew of coffee, tea, or even hot chocolate. Moreover, it's dishwasher and microwave safe, which means easy cleanup and reheating convenience.
Remember, the 'My Wife is Hotter Than My Coffee' mug isn't just a vessel for hot beverages. It's a testament to your relationship, a daily reminder of your love, and a conversation piece that's sure to generate a few chuckles.
Get this unique gift today and let your husband know just how much you love him - and how much hotter you are than his coffee!
Product Features:
• Ceramic Mug
• Size: 11 or 15 Fluid Ounces
• Choice of Red or Black Rim, Handle, and Inside
• High-Quality Print
• Dishwasher and Microwave Safe
• Great Gift for Husbands from their Wives
Kindly note that colors may vary slightly due to lighting or screen settings.
• Ceramic 15 fluid ounces
• Vivid and non-fading print
• Red or black rim, inside, and handle
• Dishwasher and microwave safe
Height, in 3.74
Diameter, in 3.15
3D Candle Creations appreciates your order!
Add A Greeting Card Mailed
https://www.etsy.com/listing/1329071764/
/> Step 1: Add to Cart
- Explore our wonderful collection of handmade creations 🎨.
- Click the "Add to Cart" button on the item you desire.

Step 2: Personalize and Customize (If applicable)
- In the "Add Your Personalization" section during checkout or "edit" area 📝, share your customization preferences.
- Specify colors, sizes, or any special requests you have in mind if your order offers this.

Step 3: Complete Your Order
- Review your order details 🧐.
- Click "Proceed to Checkout" to enter your shipping information.
- Select your preferred payment method 💳 and confirm your order.
- Once your order is processed, you will receive tracking information to keep you updated on its delivery status.

That's it! Get ready to enjoy your order, tailored just for you. If you have any questions or need further assistance, feel free to reach out to us. 🌟



http://dlvr.it/SwgM35